There's a lot to say about cheerleading, and Master likes to make sure that I say most of it. It's tough to be the type of empty-headed, smiling ditz he wants me to be without falling into cheerleading at some point, and I thought I'd pass something along that he noticed. Have you ever looked at a shirt or jacket for a cheerleader, professional, collegiate, or other? I mean
really
looked at it, not the person wearing it?
Notice how this college girl is identified: "Pacific Cheerleader". Not as a member of a team...the shirt isn't about "Pacific Cheerlead
ing
" or "Cheer Squad". It's about her...for a true cheerleader, it's all about her. The whole point of getting onto the squad is not to be part of the squad.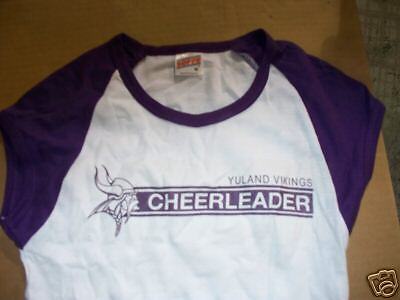 It's not like other sports, where you get a shirt that says "Pacific Football" or "Pacific Swimming".
Wearing a cheer jacket or shirt doesn't announce of what team you're part...no, it is meant to announce who you are. The whole point is to make yourself, and make clear that you are a cheerleader. Unlike any other sport I know, cheerleading gear is designed not about the team of which you are part, but the identity that you've adopted. Never forget that cheerleading isn't about stunting, or winning competitions...it's about being popular and cute. It's about being a cheerleader.